Huacachina, considered the oasis of America where we find one of the best dunes in the world.
DAY 01: Paracas – Ballestas Islands
After a few hours trip we arrive at our first destination: Paracas, immediately we will settle at the hotel.
We will go to the dock to visit exotic Ballestas Islands.
While cruising the islands we will see the enigmatic figure of the chandelier and some rock formations on which thousands of tropical birds nest.
After a long journey at sea we will reach the islands where we will see a diverse fauna like sea lions, Humboldt penguins and hundreds of tropical birds mentioning some as the Inca tern (Inca Tern), Pelicano Peruano (Peruvian Pelican), brown pelican (Pelecanus occidentalis), gray Cormorant (red-legged cormorant), Gaviota Peruana (Belcher's Gull), among others.
We will continue our tour by Paracas National Reserve Interpretation Center and the Mirador of flamingos.
We will have special lunch with the typical products from Peruvian sea.
Finishing our tour we will have time to enjoy the beaches that Peruvian banks coffer we can rest and relax taking a bit of sun.
In the afternoon we will visit the historic centre of Paracas and attractions. Overnight in Paracas.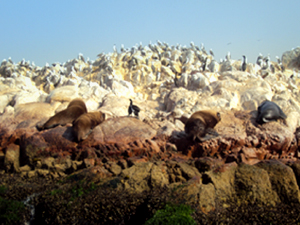 DAY 02: ICA – HUACACHINA – SANDBOARDING and buggies.

Early departure to Ica. Visit the city centre, its old houses and cathedral. Then we will go to the Laguna de Huacachina, considered the oasis of America where we find one of the best dunes in the world, we will also have fun doing sandboarding and we will end our tour on the dunes in buggies adventure.
After a hearty lunch we visit the wine cellar craft "El Catador" and the wine cellar "Lazo" at each winery we can learn differents ways they have been elaborating wine and pisco.
We will have free time to buy some souvenirs and alfajores in town. Overnight in Ica.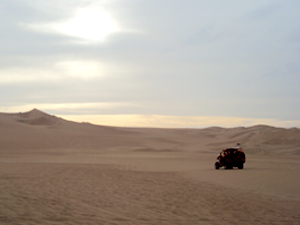 DAY 03: Nazca Lines
We transfer to the airport early to make the flight over the enigmatic Nazca Lines, where you can see for 40 minutes fabulous Lines drawn by the ancient Nazca people.
Visit the archaeological site of Chauchilla, find mummies in good condition.
Return to the city of Nazca. We enjoy a typical lunch from this place. In the afternoon we will visit the aqueducts Cantalloc where we will discover hydraulic technology used by the Nazca culture, then visit the Museo Maria Reiche where we can find information about the studies and figures of Nazca lines, made by Maria Reiche, we can also find plans, photos, archaeological material and a teaching model of their designs.
We will assist you to take your bus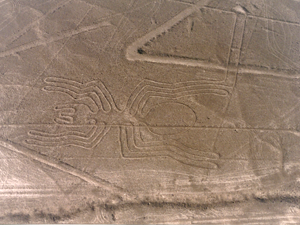 It INCLUDES: Two nights accommodation , half-board, guided tours mentioned, entrance fees, all transfers.