A TASTE OF MANU
CODE: MP4                                  SEASON: From April to November.                                  Departure: Please contact us for availability
Exploring the Cloud Forest & Pantiacolla Mountain Range
4 days/3 nights- in and out by bus
DAY 1: Cusco-Cloud Forest
We begin today with a 3 hour journey out of Cusco, over the Andes, to where we eventually stop at the Mapacho Valley.  From here we hike a couple hours along the Mapacho River, which allows stunning views of the environment and also of pre-Inka graves in the rocks.  We end at Huatocto, a traditional Andean Community where a big hacienda used to operate in colonial times. The Spanish actually built the hacienda on top of Inka ruins!  From here we continue by car to Paucartambo for a well deserved coffee.  Once we find ourselves happy and refreshed,  we'll climb to the high point of the Manu Biosphere at about 3,800m before descending to the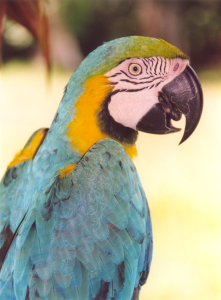 cloud forest. In these mysterious surroundings we take a hike to the "lek" of the incredible cock-of-the-rock, to see the males perform their ritual dance right before our eyes.  We'll enjoy spending our first night in the Posada San Pedro rustic lodge (appr. 1,600 m, hot showers!).
DAY 2: Lowland Forest, rafting, Cocha Machuhuasi, Pantiacolla Lodge
This morning we rise and move on, by bus, to the tropical lowland rainforest.  In the small village of Pilcopata we hop on river rafts to travel down the Pilcopata River to Salvación.  This is a beautiful way to get to know the forest: without motor sounds between you and the Amazon!  In Salvación we visit one of the few lakes of the Alto Madre de Dios River, Cocha Machuhuasi. It boasts several animal species such as caiman (a subfamily of alligators), the pre-historic looking Hoatzin (tropical bird) as well as many other birds.  You may choose to experience the lake on small traditional balsa rafts.  From Salvación, we continue down the Alto Madre de Dios River to the rustic and comfortable Pantiacolla Lodge. The forest of Pantiacolla Lodge is a very special rainforest, for it is where the Andes and the lowland tropical rainforest meet to provide interested visitors with a chance to view a good selection of birds and plants from both zones. Your first hike will be on the lowland trails, at 400m above sea level.
DAY 3: Excursion to the Petroleo stream or to the Pantiacolla Mirador
Early in the morning the boat takes us to a nearby claylick to see parrots and the rare blue-headed macaw. This is an impressive spectacle to see and hear! From there we visit the higher trails of the Pantiacolla Mountains with it's small hot springs, oil wells and natural swimming pools. In the afternoon we walk down the stream to the Alto Madre de Díos river where a boat takes us to the hot springs of Shintuya for a relaxing mineral and mud bath before going back to the lodge. At night we explore the forest by torchlight looking for insects, frogs, snakes and the uniquely nocturnal night-monkey or 'douricouli'.
DAY 4: Pantiacolla Mountains
Today the boat takes us back up to Atalaya.  From there we turn back up the Andes by car, visiting an orchid "sanctuary" along the way.