COLCA CANYON 2 DAYS / 1 NIGHT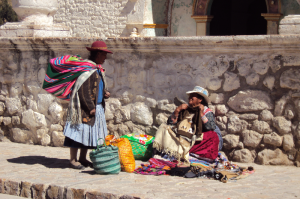 DAY 1. AREQUIPA- COLCA CANYON- We leave the city in the morning  and we drive for three hours to reach the highest point at 3,850m (13,475 ft) to admire a beautiful sunrise over the mountains; after this we drive down to the Colca Valley one more hour passing through ever changing Andean landscapes and ancient terraces. Buffet Lunch in Chivay. After this we will accommodate us in the hotel. In the afternoon if we are not tired we will hike for two hours in a nearby village or visit the local market or just relax in the hotel. After this we will enjoy the thermal baths in the hot springs facing the Colca River or at night we will admire an andean starry sky while bathing in the Hot springs and hearing the music of the Colca river, those springs are only 100m from the Hotel. Overnight in the Colca Valley.
DAY 2.CRUZ DEL CONDOR – COLCA VALLEY- AREQUIPA - Early in the morning we will depart to the Cruz del Condor View point, to wait to see the famous flight of the condors, we will be amazed by the flight performance of those birds which have their nests in the caves of the canyon walls and rises while warm thermic currents of wind approaches, also we will hike by the edge of the canyon for two hours to admire more of the canyon itself, mountains landscapes, Andean flowers and to breath fresh air. In the way back we will stop in different viewpoints of the Colca valley to observe ancient terraces still cultivated nowadays and then we will stop in different villages. Buffet lunch in Chivay. Return to Arequipa City or Transfer to Puno (6hrs) with an aditional price of USD. 50.00
INCLUDES: Guided Excursion, one Night accommodation in a doble room, entrance Ticket to the Colca Valley, all transfers, Comfortable Vehicule.
PRICE PER PERSON FROM: USD. 83.50 with a Standar Hotel.