Day 1: Lima: Arrival in Lima and Transfer to the Hotel. Dinner at the Hotel. Overnight in Lima.
Day 2: Lima: This morning we visit the down town, Plaza de Armas – the main square, LarcoMar – a passage overviewing the Pacific Ocean, The old area of Barranco and a visit to the Gold Museum with an antique Inka and pre-Inka jewellery collection.
Lunch. Free afternoon. Overnight in Lima.
Day 3: Paracas: Transfer to Paracas (2 hours). In Paracas we take a boat for 2 hours to visit the Ballestas Islands where we can observe sea lions, Humboldt Penguins and many tropical exotic Birds like Peruvian Pelicans, Cormorants, seagulls and much more. Lunch in Paracas and then Transfer to Nazca ( 4 hours ). Overnight in Nazca.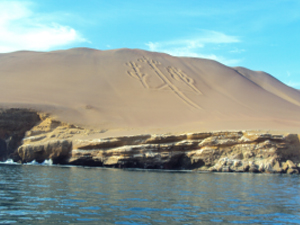 Day 4: Nazca: In the morning we flight over the Nazca Lines. A 30 min. Flight to oversee the well-known zoomorphic figures, triangles, spirals and kilometre long right lines.
OPTIONAL. A visit to Maria Reich museum (2hrs.)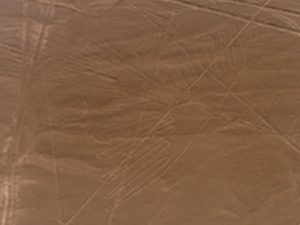 A night bus to Arequipa (8 hours) Arriving the next morning at 6.30am. Transfer to the Hotel.
Day 5: Arequipa: After breakfast we will walk to the colonial city centre to visit the main Plaza with an outstanding colonial arquitecture, Santa Catalina convent a 16th century citadel and the traditional Local public Indian market. Lunch. An afternoon visit to Carmen Alto viewpoint with a view of the 3 volcanoes surrounding the city of Arequipa, also a visit to Yanahuara viewpoint to have a nice
view of the down town and the Main Plaza. Overnight in Arequipa.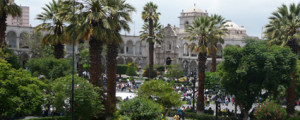 Day 6: Colca Canyon: We drive to Colca Canyon. We will stop along the way to see Lamas, Alpacas, and Vicunas in their natural habitat at 3,500m.a.s.l. We will lunch together with a Local Indian family in Sibayo village. After Lunch, OPTIONAL: A 3hrs hiking from Canocota village Through a small canyon to end up in the thermal hot waters. After this hike we will enjoy a bath in those thermal hot swimming pools at 3615m.a.s.l. Dinner with a Folkloric show. Overnight in Colca Valley.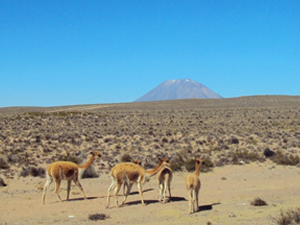 Day 7: Colca Canyon: Early in the morning we are driving to the Cruz del Condor Viewpoint. One of the best places in the hole Andes to observe condors a huge bird that the wingspan measures 3meters and 1.2m high. Then we will hike for 2hrs alongside the Canyon to have a nice view of the villages on the hill of the canyon as well as other views of the mountains around. Lunch. Overnight in Colca Valley.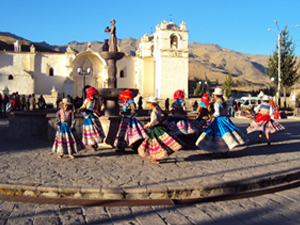 Day 8: Colca Canyon – Puno: In the morning we are going to be transferred to Puno (6hrs) we will stop along the way for pictures. Overnight in Puno.
Day 9: Lake Titicaca: Excursion to Lake Titicaca, Visiting the Uros natives in their floating islands and also we will visit the Taquile Island to have great views of Lake Titicaca. Overnight in Taquile Island.
Day 10: Lake Titicaca: we also will visit Amantani Island and we will return to Puno City. Dinner. Overnight in Puno.
Day 11: Puno- Cusco: Transfer to Cusco with the train Andes Explorer (10hrs) or with the Bus (8hrs). Overnight in Cusco.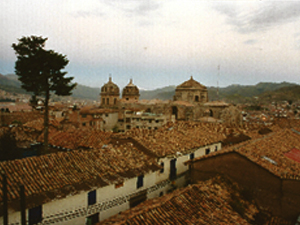 Day 12: Cusco: Visit of the four near Inka ruins, Sacsayhuaman, Qenqo, Pucapucara and Tambomachay, The main Plaza de Armas, and the Koricancha sun temple. A walking visit to the San Blas Cartier, where we will find monuments with Inca foundations and we will find the famous stone wit 12 angles. Overnight in Cusco.
Day 13: Cusco: Visit of the Salt terraces of Maras carved on a hill and surrounded by mountains, also we will visit the terraces of Moray that has a shape of a huge amphitheatre.
Day 14: Inca Trail: Cusco-Piskacucho – Wayllabamba: Transfer with bus to km 82. Where we will start the Inka trail trek to Machu picchu. This day we will walk for 5 hours. Along the way we stop for lunch and afterwards we will reach to Wayllabamba, the first camp. Overnight.
Day 15: Inca Trail Wayllabamba – Warmiwañuska – Pakaymayu: This day is considered the hardest day of the trail, we will reach the highest point wich is Warmiwañuska pass at 4,200m.a.s.l. until this point there are Andean landscapes and scenery after this pass we will descend and the scenery changes to cloud forest and mountains. We will trek for around 7 to 8 hours. We will camp in Pakaymayu at 3,600m.a.s.l.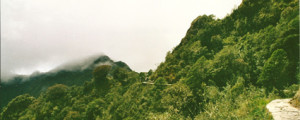 Day 16: Inca Trail: Pacaymayu – Runkuraccay – Wiñaywayna: This day we will trek for about 8hours and also will get to Runkuraccay the second pass with 3,970m, we will find impressive views and landscapes along the way, as well as different Inca ruins built on the hills. After lunch we will ascend again to a third pass, Phuyupatamarka, with 3700m. After this we will follow Inca paths through the cloud forest admiring the Veronica mountain range, impressive views along the way. We will camp in Wiñaywayna at 2,700m (wiñay= forever, always wayna=young) (the last camp).
Day 17: Inca Trail: Wiñaywayna, Machupicchu- Cusco: We start early this morning. We will trek for 2 hours to get to the Inti Punku (the Sun gate), from this point we will admire the spectacular beauty of Machupicchu Ruins and the surrounding mountains. We will be guided for 2 and half hours and also we will climb the Huaynapicchu Mountain (previously arranged and confirmed). Lunch in Aguas Calientes. Train back to Cusco. Transfer to the hotel. Overnight in Cusco.
Day 18: Cusco – Tambopata Jungle: Transfer to the airport and flight to Puerto Maldonado. The naturalist guide will transfer us to the port to take the motored boat and we will sail for about 3hrs on the Tambopata River to get to the Lodge. A box lunch is provided in this transfer. We will see how the forest changes from inhabited forest to virgin rainforest. An afternoon walk for 1 hour, in search of birds like tanagers, parrots and monkeys such as brown capuchins, squirrel monkeys, Red Howler monkey, Dusky Titi Monkeys. Overnight in Tambopata.
Day 19: Tambopata Jungle – Lake Condenado: This day we will paddle in a catamaran around lake Condenado, in search for birds, in this spot is usually seen the Hoatzin, a prehistorical looking bird, caimans and also we may see a family of River Otters at a distance. After lunch we will hike to a clay lick to observe from a blind, some parrots and parakeets coming to the claylick to ingest clay to help their digestion. Overnight in Tambopata.
Day 20: Tambopata Jungle- Lima: Early Transfer from the Lodge to the Port. Visit to a Butterfly farm. Transfer to the airport. Flight to Lima. Dinner. Overnight in Lima.
Day 21: Lima: Transfer to the airport for your International connection.
INCLUDES:
All transfers, Guided visits, all entrances, domestic flights, all accommodations, Train tickets, assistance, all the meals in the jungle excursion.