DAY 1 : Trujullo – Chan chan
Upon arrival in Trujillo, the City of Eternal Spring, we will meet you and transfer you to your hotel. Once your belongings are settled we will venture out to enjoy a guided tour of the Temples Of The Sun and the Moon (built between 0-600 AD) and the historically rich Mochica Pyramids, dating from the 1st to 6th century.  In its day, "Huaca del Sol" functioned as the peoples administrative center and the "Huaca de la Luna", as a ceremonial center.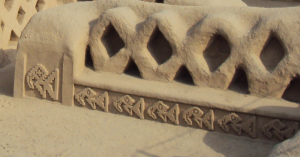 Between them lies the Urban Zone that consists of houses, large avenues, alleys, corridors and squares. These components confirm the high political, religious, economic and social development of the Moche civilization .
The Huaca de la Luna is composed of superimposed temples according to different stages of Moche power.  Some walls display beautifully defined polychrome murals whose figures represent the god Ai-apaec. In the Huaca de la Luna (neighbor to the sun pyramid) we will visit corridors, squares, giant murals and pictures in high relief in addition to elegantly decorated ceremonial squares.
For lunch, we will relax and savor the local cuisine of the city. In the afternoon we will visit
On the way we will see the rainbow Huaca or dragon Huaca, then we will head to the Museum and Chanchan Tshudi Palace, where many of the objects found in the excavations are kept.
Finally, we will end the day with a beautiful view of the sea in the resort of Huanchaco, where we will find the famous "little horse" reed canoes, handmade rafts of Junco. Overnight in Trujillo.
DAY 2: Trujillo – El Brujo.
After breakfast we will have a guided tour of the historic center, which includes visits to the Plaza de Armas, House Calonge, Orbegozo House, Emancipation House, Iturregui Palace and the Toy Museum.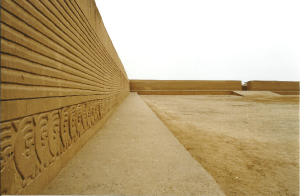 Following our morning tour we will savor a delicious local lunch and take a trip to "El Brujo" Archaeological Complex.  Here we will meet the SEÑORA DE CAO  one of the first women of  influence in ancient Peru.  The complex where she was discovered is in the Chicama Valley and is comprised of the Huaca Cao – an archaeological excavation of large polychrome murals of the Moche Culture (1st to 6th century A.D).  We will then we head to the museum to visit the tattooed mummy as well as other valuable objects.  Overnight in Trujillo.
DAY 3: Trujillo
After enjoying breakfast at the Trujillo, we will assist you with meeting your next travel connection.
INCLUDES: mentioned guided visits, entrance tickets, accommodation for two nights, all transfers.